Mini-inline - Laser protection nose for integrable laser markers
INTEGRABLE LASER MARKER
Simplify your laser marking machine integration with our Mini-inline: this laser safety concept protects the laser beam and facilitates particle extraction while freeing you from the costs and constraints of a class 1 laser enclosure.
SAFE
No need for a bulky class 1 laser housing, the Mini-inline isolates the laser beam while the safety sensors make sure the part and Mini-inline are present: maximum laser engraver safety for the operator and his work environment.
 
COMPACT
Thanks to its size, the Mini-inline is easily added to your existing production line. It allows the integration of our industrial laser marking system in very narrow areas, to engrave the necessary information on a wide range of parts.
 
COST-EFFECTIVE
This accessory has the advantage of being cheaper than a class 1 laser protection housing: lower purchase price, and no pre-study cost for the final installation. In addition of the time saved installing the Mini-inline on the laser marker.
Technical specifications
Compatible with the following laser marking heads
Fiber series (Fiber premium, standard and energy)
Hybrid series
Green series
Safety
Safety systems preventing the laser emission if the funnel is not properly closed over the part:
Inductive sensors: for metal parts
Optic sensors : for plastic parts
Mini-inline presence sensor
Safety relay
Air extraction
Double-wall design with suction allowing high-efficiency evacuation of smoke and dust.
Particle extraction directly at the marking location.
Easy maintenance
Easily dismantled from the laser marker and replaced for cleaning, ensuring low maintenance costs.
Up to 70000 marking cycles before cleaning, depending on the application.
Operating temperature
10 to 40°C (50 to 104°F).
Max. part temperature
100°C
Dimensions
293 mm x 192 mm x 168 mm (11.54 x 7.56 x 6.61 in)
Marking
Standard marking area
32 mm x 42 mm (1.26 in x 1.65 in)
Other dimensions on request
 
Suitable for:
Large metal or plastic parts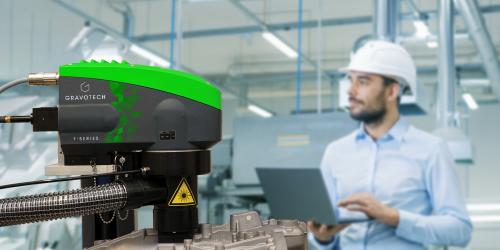 Secure industrial laser marking system for high-speed production lines
The Mini-inline defines a new standard in industrial laser engraver safety.
It's array of sensors ensure marking safety conditions are met. Thanks to its class 1 laser certification (laser beam is totally isolated from its surroundings; no risk of eye or skin hazards), the operator and his surroundings are protected from the laser beam while the parts are being marked.
In our pursuit of security, the Mini-inline is certified by the German insurance and accident administration, the DGUV. This means our laser engraver safety solution passed several levels of certifications, ensuring the safety of the work environment.
In addition, the optimized air-flow design of the marking chamber help extract fumes and particles to a connected exhaust system for a safe breathing environment. This also limits the accumulation of dust within the Mini-inline, increasing the number of marking cycles before a cleaning is required.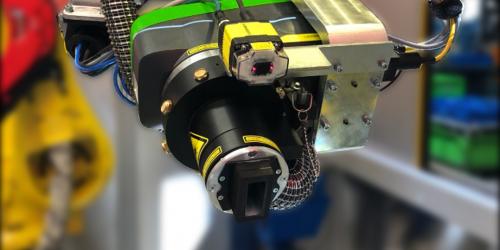 High-productivity solution
No need to bring large modifications to the production line, the Mini-inline is designed to fit right in.
Compared to a regular class 1 laser housing where the part has to be transferred into and out of the casing, our solution has the part moved to it, or is moved to the part. Maintaining low cycle-times.
Installed between our laser marking solution and the part to mark, its small footprint makes it highly convenient for automotive part marking in a horizontal or vertical integration; even attaching the laser marking machine and the Mini-inline to a robot arm.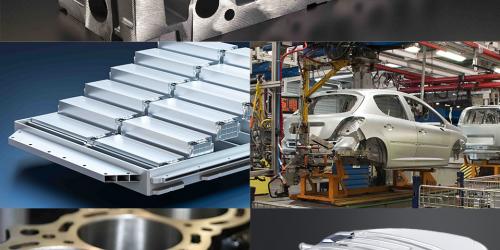 Automotive part marking
Developed in partnership with one of the biggest car manufacturers in the industry and to ensure perfect automotive part marking, the Mini-inline has been improved throughout time and is installed in more than 200 production lines.
Its main purpose is to secure the marking of large plastic and metal parts, while providing more spatial flexibility.
The Mini-inline associated with an industrial laser marking system can permanently mark parts such as:
car bodywork,
exhaust pipes,
engine crankcases,
gearbox housings,
stamped body parts,
fuel tanks,
structure parts
large curved parts, etc.
Mark a wide variety of materials
FIBER GALVO
HYBRID
GREEN
ORGANICS
Ceramic​​
Electrical and medical ceramic
Leather
Paper​​, cardboard, cork
Rubber​​
Silicon
Wood​​, varnished wood
PLASTICS
ABS​​
Laminates​​
PA
PE, BET
PMMA, Acrylic
POM - PBT
PP
PC
Foam​​
METAL
Aluminum
Anodized Aluminum​​
Brass​​
Carbide
Coated metal
Copper
Gold, silver, nickel, platinum
Stainless steel​​
Steel
Titanium
= Engraving / Deep marking