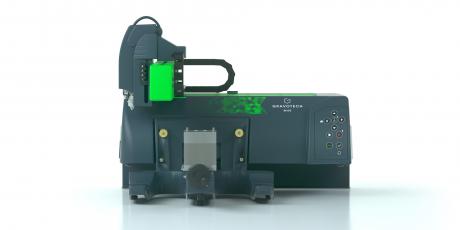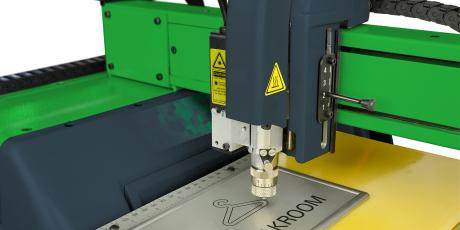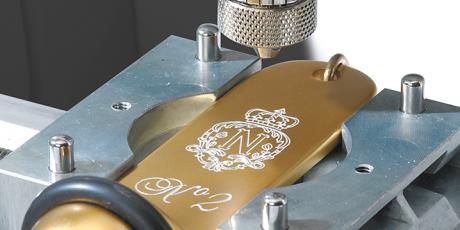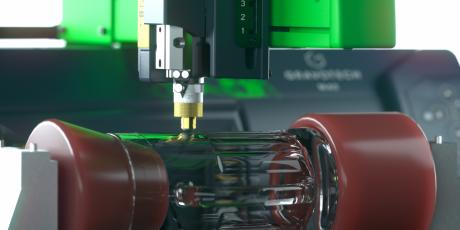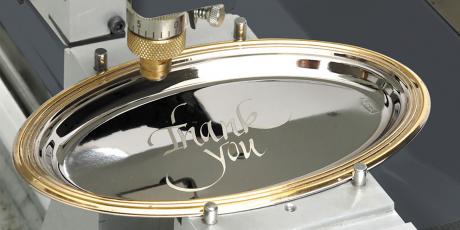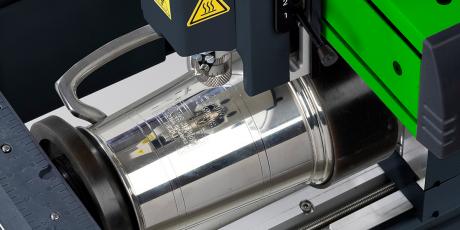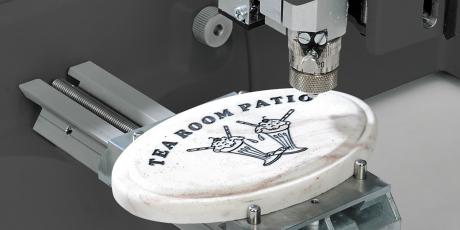 M40: multi-purpose rotary engraving machine for signage and gifts
ENGRAVING STATION
The M40 is a compact versatile signage engraving machine. Its large engraving area makes it a perfect engraving solution for medium-sized items and flat objects. It can engrave a large range of materials such as plastic, glass, wood, metal and many more!
Open structure Don't let your machine decide what you can or cannot engrave. The M40 210x305mm engraving area benefits from an open structure that allows larger items to be engraved when needed. Engrave very long plastic signage plates, electrical labels, thin wood beams, golf clubs, swords, irregular-shape items and more.
Engrave glass with the M40 Gift version The M40 Gift includes an automatic lubricant tank and a rotary device to personalize glasses and bottles. The rotary device can be tilted for conical items. Engrave and personalize any flat or cylindrical items up to 110mm height.
Adapted for beginners Control and adjust your work with our dedicated GravostyleTM or ABC engraving software thanks to numerous options. The M40 comes with an auto-centring jig and a laser beam (Point & Shoot) to help you place the item to engrave, while the engraving software automatically picks up its position. The included GravogripTM table firmly holds the item without leftover residue on it.
Technical Specifications
Automatic Z-axis - no need to manually measure your items. Point & shoot - easily place your item and start your engraving. Optional Bluetooth - wireless communication between your software and the machine. 4.36mm spindle diameter - more stable spindle for higher precision. Compatible with Twincut. 20,000 tr/min speed - clean and smooth engraving finish. Deep Vice - to engrave bigger items.
General
Technology : Rotary, scribing Dimensions (L x W x H) / Weight : 550 mm (21.654 in) x 510 mm (20.079 in) x 320 mm (12.598 in) / 19 kg (41.888 lb)
Marking Capacity
Marking area max : 305 mm (12.008 in) x 210 mm (8.268 in) Spindle power : 20000 rpm Software : Gravostyle, Lasertrace
M40
Max. object size (L x W x H) (weight)

Unlimited x 210 (8,27 in) mm (10 kg - 22,04 lbs)

Dimensions (L x W x H)

550 mm (21.654 in) x 510 mm (20.079 in) x 320 mm (12.598 in)

Machine weight
Automatic Z axis
Noise level
Spindle Type

Top load spindle
Hollow shaft motor

Point & shoot
Operating Temperature

min. +5°C (+ 41°F) - max. +40°C (+104 °F)

Connection to computer
Maximum speed
Z stroke (Z travel)
Rotation speed
Software

ABC / Gravostyle / Gravotouch

Tool diameter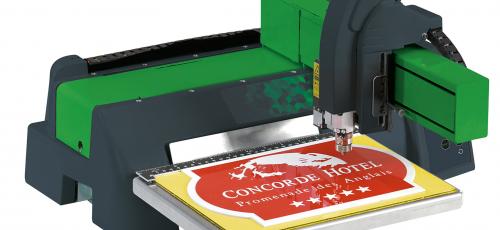 The M40 engraving area exactly matches the professional plate standards (doctor, lawyer, notary plates). It is the perfect plaque engraving machine to engrave small and medium-sized plates and signs. Create in-house technical identification plates, electrical labels, operating instructions for appliances, professional plaques and many more. The engraving software mirror mode allows engraving on acrylic plate reverse side, for a clear and professional finish.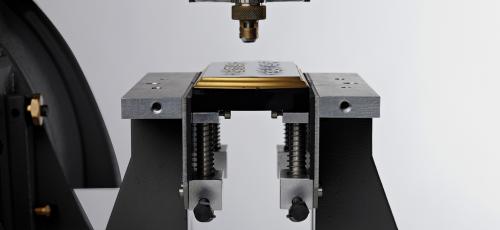 Create all kinds of funeral signage with your M40 engraving machine. Engrave wood, plastic or metal coffin plates, engrave on urns thanks to a cylindrical attachment, personalize commemorative items, add text, figures and symbols to your composition and more.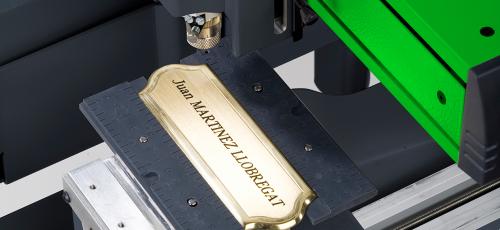 Add colour to your creation after the engraving. Apply black Gravolaque on plaques for a contrasted result, or personalize your plastic signs with cold wax (several colours available). Gravotech offers a wide choice of two-layer materials: take off the first layer to see the second one, and get colourful signs without adding any chemical product. Check our consumables catalogue to see all the colour combinations. Compatible with inside and outside use.
This engraving machine can handle more than 30 materials
ROTARY
SCRIBING / DIAMOND
ORGANICS
Ceramic​​
Glass, crystal
Food​​
Leather
Wood​​, varnished wood
PLASTICS
ABS​​
Laminates​​
PA
PC
PE, BET
PMMA, Acrylic
POM - PBT
PP
METAL
Aluminum
Anodized Aluminum​​
Brass​​
Carbide
Coated metal
Copper
Gold, silver, nickel, platinum
Stainless steel​​
Steel
Titanium
= Engraving / Deep marking