M20: rotary engraver for gift engraving, small signage and retail personalization.
ENGRAVING STATION
The best-selling rotary engraver, the M20 is a small engraving machine for all applications with plastics, metals and even glass. Compact, this machine can be used everywhere: workshops, stores, and on events.
Easy to use
Custom engraving has never been easier. Forget about endless technical trainings, the M20 rotary engraving machine could not be simpler to use: intuitive control panel, multiple positioning vices, open design for easy part loading and unloading… The M20 also offers a Bluetooth option.
 
Gravotech unique engraving assistance features
The M20 comes with numerous features to simplify your engravings. The Point & Shoot function suppresses the risk of error by surrounding the engraving area. The rotary engraver automatic height adjustment, combined with depth nose that tracks the surface during the engraving, ensures a clean and constant result without wasting time in technical settings.
 
Personalization machine that can be personalized!
The M20 is the ideal solution for gift engraving (pens, key rings, perfume engraving) and photos or logos engraving on medals, lighters and more. Moreover, this desktop engraving machine can easily be customized to evolve with your business. Thanks to decades of experience in engraving, Gravotech has the widest range of jigs and accessories for custom engraving.

Are you looking for a jewelry engraving machine? Discover the M20 Jewel, a complete solution made for jewelers.
Technical Specifications
M20 - 3rd generation
 
Unobstructed access.

Engraving assistance
Surface tracking with the depth nose
Automatic detection of the object height.
Positioning assistance
Self-centering vices
Positioning and simulation of the engraving (Point & Shoot) 
Engraving preview.
A wider range of tools
Easily create engraved gifts and items with diamonds, rotative diamonds or cutters. You now have an extensive choice of +300 references among our OneCut and TwinCut tool ranges. You can now cut and drill without changing your M20 spindle. 

Connectivity to computer and tablets via Bluetooth and USB

4 configuration improvements from the old version
New sturdy bridge design.
Metallic parts and new stronger spindle.
Improved reliability of the Z-axis and the engraving head.
TwinCut compatibility: +300 references available.
General
Technologies
Rotary, scribing, diamond dragging
Marking Capacity
Marking area max
100 x 100 mm (3.9 x 3.9 in)
Spindle power
30 W
Max object height
100 mm (3.9 in)
M20
Max. object size (L x W x H) (weight)

190 x 110 mm (7,5 x 4.3 in) or unlimited x 60 mm (2,36 in) - (10 kg - 22,04 lbs)

Dimensions (L x W x H)

375 x 350 x 360 mm (14.764 x 13.780 x 14.173 in)

Machine weight
Automatic Z axis
Noise level
Spindle Type

Top load spindle
Hollow shaft motor

Point & shoot
Operating Temperature

min. +5°C (+ 41°F) - max. +40°C (+104 °F)

Connection to computer
Maximum speed
Z stroke (Z travel)
Rotation speed
Software

ABC / Gravostyle / Gravotouch

Tool diameter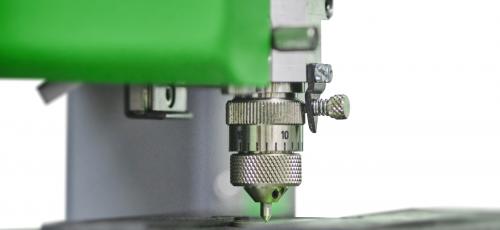 This desktop engraving machine adds entertainment to your shop. Safety first, the engraving show can be admired by all without any danger thanks to the transparent M20 Cube.

Besides, its industrial yet elegant design is ideal for retail personalization, as it attracts curiosity. Its capabilities enhance the customer experience.

Your customer shopping experience won't be disturbed by the noise, as diamond engraving provides a silent engraving.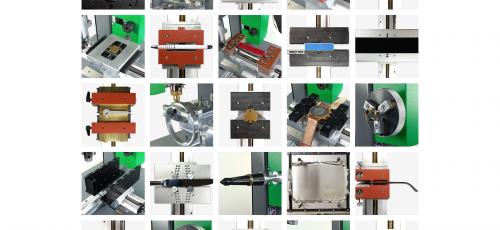 Decades of experience, customer's feedbacks and innovation have developed Gravotech's offering: we have the largest selection of jigs! But it's not just a matter of choice, convenience counts too: all our jigs are easy to change and position on this small engraving machine.

More than 25 jigs are compatible with the M20 rotary engraver, whatever the signage or personalization application: electrical strips, swiss army knives, tableware, funerary plates, engraved gifts, cosmetics or perfume engraving… Every item has a match at Gravotech!
The M20 is available with different software that adapts to the user.

CATALOG: From a catalog of products, with all the pre-sets saved, you just need to select the object on a tactile tablet with Bluetooth and enter the text to engrave. Do you wish to create your own catalog? Contact us today for more information.

ABC: Simple composition in 3 steps: define the composition area, enter the text or logo, select the engraving parameters and go!

GRAVOSTYLE™: The expert software with unlimited design possibilities (vector graphic editor, Photostyle, Dedicace™).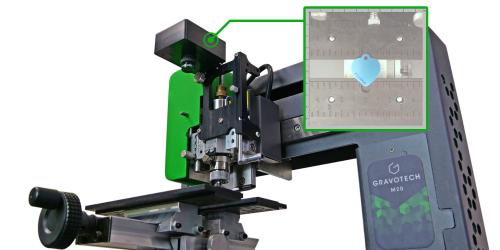 G-Eye
Make engraving easy and fun
Thanks to the camera, you can now see the marking area on your product. Design the engraving, and place it easily and quickly on the product before starting the engraving process.

G-Eye is the assistant for engraving on any flat surface (pendants, flat bracelets, pens...). You can engrave complex and irregular shapes without any worries of making a mistake.
Find out more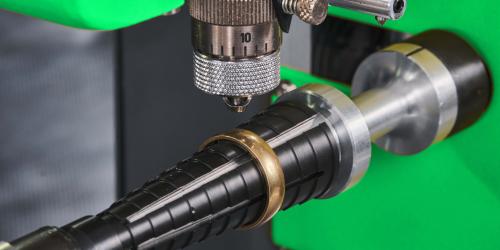 Turn your M20 into a M20 Jewel
You can now add accessories to upgrade your existing M20 and turn it into a M20 Jewel. Diversify your offer and expand product range!

The Jewel pack includes a rotary device, a chuck for rings up to 27 mm diameter, 90 mm plastic jigs and a jewel jig, all the accessories needed to engrave all kind of jewellery.

The M20 Jewel is a complete solution made for jewellers to engrave rings (interior and exterior), bracelets, pendants, as well as create small and unique pieces of jewellery and also for gift engraving.
Find out more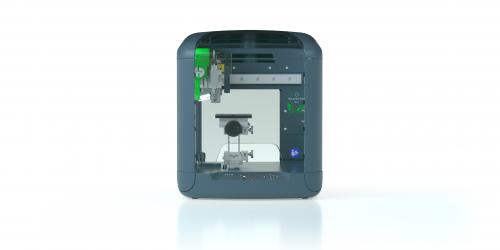 Cube option
Generate in-store animation with custom engraving
Create an unforgettable customer experience in your shop through item and gift engraving with the M20 transparent casing. Customers can watch the whole engraving process in complete safety.

Designed for retail personalization, the M20 Cube reduces the engraving noise level and keeps the rotary engraving machine environment cleaner.
This engraving machine can handle more than 30 materials
ROTARY
DIAMOND DRAGGING
ORGANICS
Glass, crystal
Leather
Wood​​, varnished wood
PLASTICS
ABS​​
Foam​​
Laminates​​
PA
PC
PE, BET
PMMA, Acrylic
POM - PBT
PP
METAL
Aluminum
Anodized Aluminum​​
Brass​​
Coated metal
Copper
Gold, silver, nickel, platinum
Stainless steel​​
Steel
Carbide
Titanium
= Engraving / Deep marking
M20: Gravograph historical best-seller
The M20 is our most famous engraving machines
Gravograph, our historical brand dedicated to personalization and signage, developed the iconic M20 engraver at the beginning of the 2000's.
Gravograph's aim was to develop a versatile machine at an affordable price. The light weight and compact dimensions of the M20 quickly made it a flagship product of Gravograph. It is particularly popular with express engravers, small and medium-sized companies and jewelers.
In 2018, The Gravograph M20 is chosen to engrave all the Golden Globes trophies thanks to its high-speed personalization capacity. A great occasion for the whole team to celebrate not only the awarded talent but also the unquestionable engraving qualities of this machine!