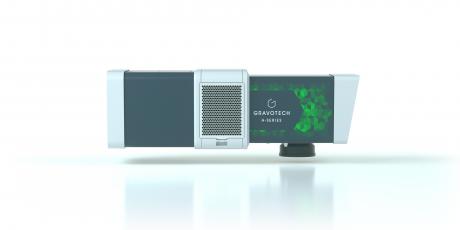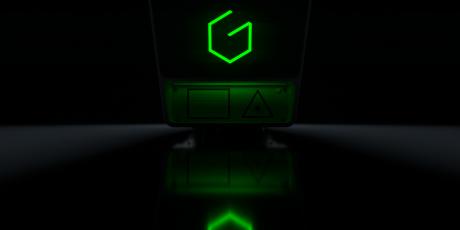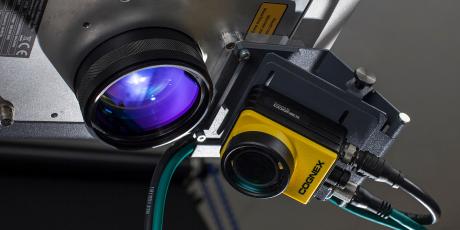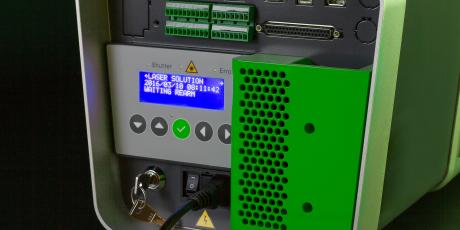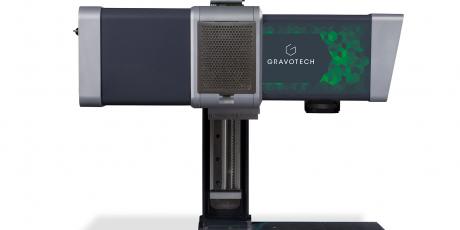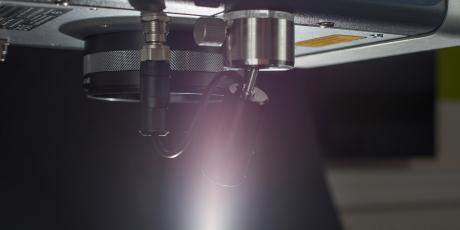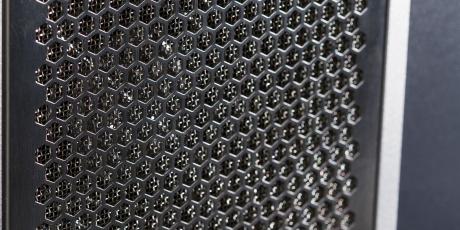 HYBRID Laser: The best compromise between versatility, high quality, and high speed to meet all your marking needs
INTEGRABLE LASER MARKER
The 1064 nm HYBRID laser marker is perfect for applications requiring a great versatility in terms of marking materials at the highest speed, from metal to plastic laser marking.
EXTRAORDINARY PEAK POWER
The Hybrid laser is characterized by its peak power and extremely short pulse duration. Thanks to its high peak power of up to 150,000 W per shot, which is 15 times more powerful than a standard fiber laser at the same energy level, it offers a unique interaction on plastics for high-contrast marking permanent marking.
 
DPSS LASER
The small diameter of the laser spot is combined with a very short pulse duration of 8ns, 10 times shorter than a standard fiber laser. The quality of the direct marking is perfect, with no halos or distortion due to heating. It is the ideal solution for applications requiring thin marking and perfect aesthetic results such as the horology and jewelry sectors.
 
VERSATILITY: METAL OR PLASTIC ENGRAVING
All types of direct marking finishes are possible thanks to the power range of the HYBRID laser. It is the perfect solution when you have a variety of parts made of different materials from hard metal to soft plastic engraving.
Technical Specifications
Different laser powers available
10W: perfectly suited for contrasted plastic laser marking.
20W: for very high productivity plastic laser marking, twice as fast for all types of metals, even the most reflective ones.

Laser classification
Class 4 Laser system, possibility to switch in Class 1 for integration on a station or equipped with Mini inline module.

Monobloc design, easy integration
No sensitive cable connections in system integration

Thanks to its integrated HMI display, it provides access to self-diagnostic, updates, history of faults, maintenance functions and simplifies the implementation in all positions and visualization of tasks for the operator.

Highly communicative laser
HYBRID laser marker is compatible natively with a wide range of communication protocols: Ethernet TCP/ IP, RS232, standard 8 I / 80, Dedicated I/O via DB-37 and optional industrial communication protocols like Profinet & Ethernet IP.

Robust laser system
Working temperature up to 40°C, built-in and washable filter for air cooling, protection against scratches and deposits.
General
Wavelength
1064 nm
Available power version
10W / 20W
Marking Capacity
Process automation
Industrial Ethernet Networks
Safety Performance Level e
Embedded intelligence
Autonomous
Programmable by PLC
No PC required
Traceability Management
HYBRID LASER
Model
Laser Technology
Power
Power Peak
Frequency
Scan speed

Up to 10000 mm/s (393.7 in/s)

Display

Integrated screen with control panel for: REAL-TIME SUPERVISION, EASY DIAGNOSIS, SOFTWARE UPDATES, MEMORY BACK-UP…

Operating Temperature
Marking Area - Available lenses

F100: 65 mm x 65 mm (2.6 in x 2.6 in)
F160: 110 mm x 110 mm (4.3 in x 4.3 in)
F254: 175 mm x 175 mm (6.9 in x 6.9 in)
F330: 205 mm x 205 mm (8.1 in x 8.1 in)

Safety performance level
Marking Specifications

+60 Gravotech fonts, Possible to convert User & TTF fonts, All formats of barcode and 2D codes, Logos

Communication interfaces (standard)

Ethernet TCP/IP; Terminal block 8I / 8O; Laser Safety Dedicated I/O; RS232; USB

Laser safety classification
Fieldbus
Power consumption rate
Humidity level
Rated voltage
Marking head weight
Marking head cable length
Marking head installation direction
This module guarantees exact and consistent DPSS laser marking without any mechanical adaptation when you change the type of part. It simplifies your integration: No need to re-adjust the focal distance, even when you are marking various types of parts with different heights on the same line.
 It offers more flexibility on your production lines, giving the possibility to have parts with a difference of up to 4.72 in. height without moving the laser. Just select the right marking job and you are ready to switch to another product line.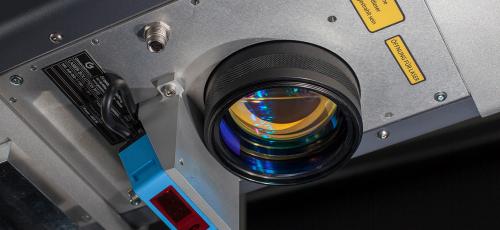 This module is combined with a distance sensor to make an Autofocus. The integrated laser automatically detects the part surface and adjusts the focal distance without any calibration or waiting time. 
Guarantee of optimal marking quality regardless of the flatness of the parts or their shape, constant contrast & depth.
Boost your productivity with the fastest solution. Instant refocus-Less than .1 second to change focal distance and reduce your marking cycle time.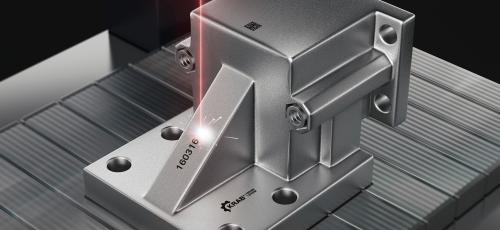 This HYBRID laser marker also manages cylindrical surfaces, angled planes, and multilevel surfaces without any head movement. Instantaneous marking on a complex part with the possibility to mix curved surfaces and angled planes at different heights up to 4.72 in amplitude. No character deformation and a uniform contrast over the entire engraving area.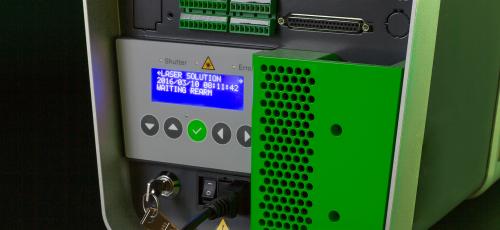 This HYBRID laser marker can work independently in a production line and generate all data necessary to your identification without a computer. It can serialize your parts instantly, generate unique ID with complex marking content (timestamps with multiple formats, variables, counters, shift codes) and update the text and 1D/2D codes predefined in your templates. The powerful embedded electronics can communicate and centralize information coming from your PLCs and database in real-time, saving you time while increasing your productivity.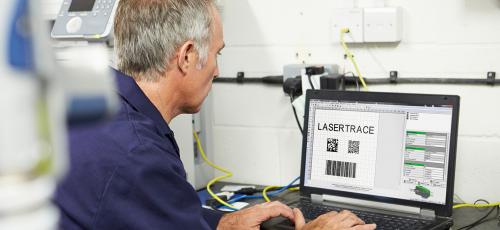 Developed by Gravotech and enriched by numerous application experiences, LASERTRACE is a unique software specially designed to create marking files to be loaded in the laser system. It includes a graphic composition to add text, logos and codes like Datamatrix in your marking templates. You can design your marking process according to specified rules, the actions (marking blocks) to be carried out, the sequence of execution and the possibility to implement a large choice of transitions (output activations, camera blocks, variables, etc).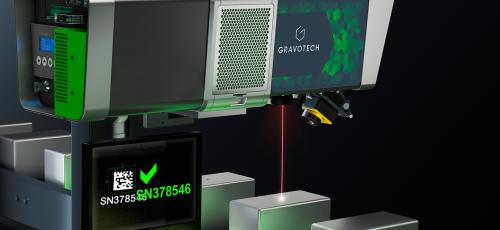 This package helps you read codes and texts during the marking process, to ensure the marking has been done properly and keep a 100% traceability of your products. 
High performance: reading camera with lighting, auto-focus system and protective lens. 
Easy set up: You are a few clicks away from complete control of the 1D/2D codes and your text (OCR fonts), Quality control of the code visibility (Grade),
Monitoring of the marking quality by triggering large choice of operations, just send status info and history to the PLC, activation of alarms, activate actuators to reject faulty parts.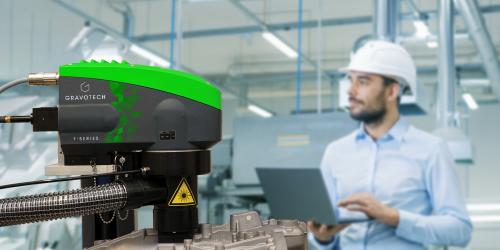 Mini-inline - Innovative Solutions For Permanent Marking
Gravotech has designed a turnkey marking solution that will fit perfectly on your production lines.
Mini-inline is a Class 1 nozzle to secure the marking process without designing a costly Class 1 enclosure.
Designed for Marking of large industrial parts: This Class 1 solution is fully customizable to fit your parts perfectly. Recommended for large parts and flat surfaces, Engine crankcase, Gearbox housing, Stamped body parts, Fuel tanks, Long parts.
Highest level of safety: the Mini-inline package includes safety sensors (inductive or optical) for part detection.  They are linked to the protective shutter and laser source.
The Mini-inline insures we extract all fumes generated by the laser, thus protecting the operators from the fumes and particulates generated by the laser marking.
Flexible and reliable, the Mini-inline can be integrated in all positions and is compatible with robots arms or linear actuators.
A unique and proven design that has been used for years across more than 100 manufacturing sites.
REQUEST A DEMO
This laser marker can handle more than 15 materials
HYBRID
PLASTICS
ABS​​
PA
PC
PE, BET
PMMA, Acrylic
POM - PBT
PP
METAL
Aluminum
Anodized Aluminum​​
Brass​​
Carbide
Coated metal
Copper
Gold, silver, nickel, platinum
Stainless steel​​
Steel
Titanium