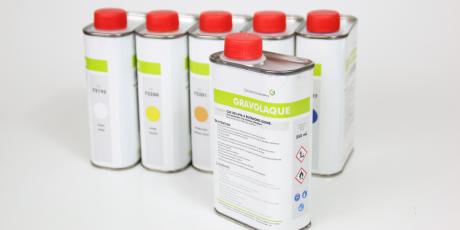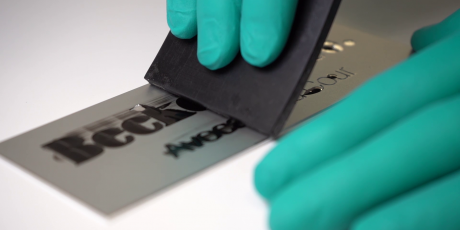 Gravolaque, engraving filler for color engraving on metal and plastic
Engraving filler paint
Dedicated to plastic and metal color marking of mechanical engravings, Gravolaque is an engraving filler paint designed to offer you an ultra-glossy contrast.
A durable paint 
Gravolaque is a polyurethane paint, resistant to impact, frequent use, and weather conditions. 
Available in 6 glossy finishes  
This engraving filler paint for metal and plastic is available in white, red, green, blue, gold and black. Depending on your color marking needs we can also develop specific colors on request. Please do not hesitate to contact us to know more about our engraving filler paint. 
Compatible with Gravotech engraving materials 
Gravolaque: benefits
Our engraving filler for metal and plastic is delivered in bottle of 250ml (8.45oz) with a spout for an appropriate use of polyurethane paint quantity and a precise application. Spare spout for Gravolaque is orderable with the part number 72204. 
These items are shipped via ground transportation. For other means of transport, please consult us.
 
Gravolaque: specifications
Capacity: 250ml (8.45oz) 
Spout included 
Gravolaque: Part numbers
White: 72195 
Red: 72196 
Green: 72199 
Blue: 72197 
Gold: 72198 
Black: 72194 
Spare spout: 72204